Irene Yee - Adventure Rock Climbing Photographer
Fashion Stories Guest Editors / Publish 5 min read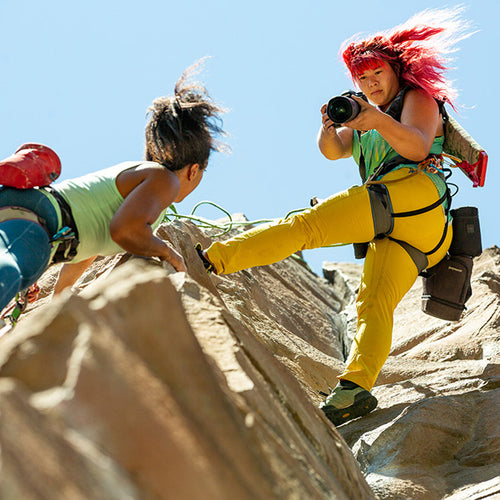 COUGAR CHRONICLES
Irene Yee - Adventure Rock Climbing Photographer
---
Rock climbing is challenging enough. Throw in taking fantastic photos along the way – the kind that National Geographic publishes – and you've reached new heights of skill that are the everyday norm for Irene Yee (she/her).
Known as @ladylockoff on Instagram, Irene is a real-life rebel, speaker and educator who, through her rock climbing and photography, empowers people to be inspired and embrace their best. Guest editor Christy Wright gets Irene's backstory, her take on rebellion and what Cougars are in the frame this season…
All photos by Irene Yee - Ladylockoff Photography
---
First up, tell us what Ladylockoff means.
When I joined Instagram, I was looking for a snappy name. A "lockoff" is a specific climbing move, one that I found harder than others, but I knew once I mastered it, it would unlock rock climbing for me. We also all love a good alliteration so Ladylockoff just rolled off the tongue.
What came first – rock climbing or photography?
Rock climbing definitely came first. I moved from Boston to Las Vegas to explore a bit more of life and I didn't realize that the place I moved to was such a hub for climbing. I had some friends take me rock climbing outside for the first time, and the moment I got to the top I knew I wanted to rock climb for the rest of my life.
They do! And they've been described as "rebellious." What do you think of that?
I like it. I think any time you go against the norm, it's a chance to really find what speaks to you rather than what speaks to others. It gives you a space to experiment, mess up, play and find meaning.
Is there a Cougar boot you feel has that rebellious streak?
The Meridian Boot is the perfect rebellious boot for me. Some people like you to be all one thing, you know, "outdoorsy must look like this." But no one is ever just one thing; people are a beautiful mixture of many things and so having an astronaut-looking boot, like Meridian, to romp around the cold desert in couldn't be more fun or rebellious.
Meridian Nylon Waterproof Winter Boot with PrimaLoft® in Navy Matte
Both your photos and the act of rock climbing channel rebelliousness and feel empowering. How important is that to you?
It is so important that my work feels empowering because that's how rock climbing makes me feel. When you're on the wall, it's just you and the rock; it's a place to push your boundaries, but also a place to be honest about when you've reached them. Empowerment comes from choosing either to push past your boundaries or making the choice to know it's time to come down. Through my photos, I hope everyone can see a little piece of themselves – joy, laughter, determination, fear – so we all can feel a little more seen.
Which Cougar styles did you pick and why?
I picked a mixture of outdoor and fashion styles. The Ultra Michelin Boot is a grippy, winter-style for cold outdoor treks and the Savant Luxmotion and Meridian are a bit more on the stylish side for cute winter looks.

Meridian Nylon Waterproof Winter Boot with PrimaLoft® in Navy Matte
We love that you chose a boot from our new Michelin Soles Collaboration.
It's like snow tires for your feet! Tell us how the Ultra feels on.
The Ultra is super warm and is so sticky on the desert rock out here. With its thick sole, I didn't have the problem of feeling every rock that was on the trail or balancing on uneven footing. Though I have yet to adventure through the snow, I'm really excited about Ultra's waterproof capabilities.
Ultra Nylon Waterproof Winter Boot with PrimaLoft
®
 and Soles by Michelin in Black
How will you style your Cougars?
I'll wear Ultra Michelin for outdoor winter treks. I got them just a bit roomy to fit warm hiking socks for those chilly, all-day ice-climbing adventures.
My Meridian winter boots are so funky-cool, I can't wait to wear them whenever I get the chance. I mean, they look like space boots, how could I not love that? The fact that they'll also keep my constantly-cold feet warm during the winter will have me wearing them inside as well as outside.
I'll wear Savant Luxmotion Sneaker on a more day-to-day basis as the temps begin to drop in the desert. Paired with my comfy leggings and a warm fleece, these sneakers are ready for a day out exploring the city with friends.
What's the best thing about rock climbing?
Inhaling fresh air, feeling the sunshine, hanging with friends and keeping my body in motion.
What's the best compliment you could receive about your photography?
"It opened my mind to the possibilities I could accomplish."
My goal is not to get you into rock climbing. My goal is to get you to try rock climbing. If you are able to do one thing that might intimidate or scare you, what else are you capable of?
What's your motto?
Take the time to give yourself a try.